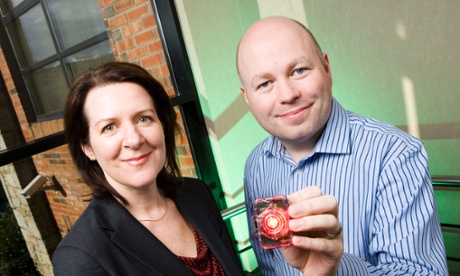 Photograph: Glenn Waddell
When it was announced that the Giro d'Italia cycle race would pass through Northern Ireland last May, cycling technology company See.Sense seized the opportunity to promote its product.

The business, based in Newtownards, in County Down, makes an "intelligent" bicycle light, whose smart sensor means the light is really bright when cyclists are most at risk, such as at a road junction or filtering in traffic.

The idea came to bike commuter Philip McAleese after he was injured in a cycling accident and treated in hospital. McAleese, who founded the business with his wife Irene, became determined to find a way for cyclists to be more visible on the road. The McAleeses, who had been living in Singapore, left their corporate careers behind and moved to Northern Ireland to set up See.Sense.

But they still needed to to find a cost-effective way to build brand awareness in the wider cycling market. So they decided to exploit the media attention surrounding the Giro as much as they could, explains Irene McAleese.

They created a special-edition pink Corsa Rosa light, and put together a commemorative brochure with the local cycling community.
The Northern Ireland Tourist Board gave lights to 100 visiting dignitaries and journalists and Belfast's lord mayor cycled around the city with his See.Sense light.

The business also used content marketing, producing a lighthearted video with a local videographer that went up on their site the day the Giro started. The video, which captures the scenery along the race route, has received more than 5,000 YouTube hits and was widely shared on its social media accounts, reaching more than 80,000 people on Facebook alone.

Irene McAleese says: "I think it got shared so much because people were watching the Giro race around the world and seeing the beautiful scenery. We also had a competition where you could win accommodation along the route."

See.Sense's trade stand and billboards along the Giro route also gave it good visibility to the crowds and the film crews, and they were interviewed by local media, including UTV news, BBC Ulster Radio and the Belfast Telegraph. Its Facebook page grew by 1,000 likes and it doubled its Twitter followers. It also sold out of its special-edition Corsa Rosa lights.

The business has continued to build strong links with the local North Down Cycling Club, the largest in Northern Ireland with 400 members, and recently took on a copywriter to develop its blog.

The marketing campaign followed an exciting first year for See.Sense, which was founded in April 2013. They launched the light on Kickstarter in October that year, which was proved a "fantastic vehicle for marketing and PR," says Irene McAleese. "The response was phenomenal. In eight hours we met our fundraising goal and we went on to sell £33,500 worth of lights in one month. More than 500 people backed it and they have been really really important to us through the whole journey."
She adds: "We may have underestimated the impact it could have. You get real customers who see your product and understand what it does. We had some great media attention."

Following on from the Kickstarter campaign, the business landed a place with online cycling retailer Chain Reaction Cycles and has entered and won several business competitions, including Best Early-stage company in Northern Ireland at the Seedcorn Investor Readiness Competition and Breakthrough Company of the Year at the Invest Northern Ireland Propel Awards.
Sign up to become a member of the Guardian Small Business Network here for more advice, insight and best practice direct to your inbox.